Welcome to the Tamayura Wiki! This is an online resource about the upcoming Anime that anyone can edit. This page will become more populated as more information is revealed about the show. Feel free to add and edit content!
Season 1 | Tamayura: Hitotose | Tamayura: More Aggressive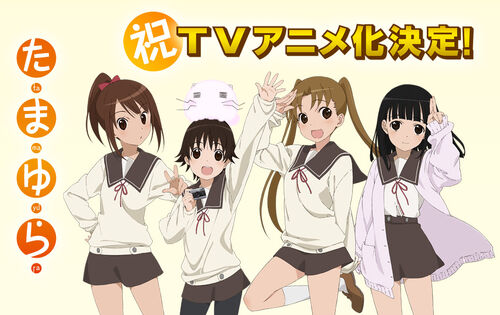 Tamayura centers around a young girl named Fu Sawatari who moves to Takehara, Hiroshima to begin her first year of high school. Her late father grew up in Takehara and this is her first time back in the town in five years. Fu enjoys photography and is often engrossed with taking pictures with her father's old Rollei 35S film camera. A shy girl, Fu tries her best to make friends early on, spurred on by her childhood friend Kaoru Hanawa. She quickly becomes friends with two other girls, Maon Sakurada and Norie Okazaki.


How excited are you for Tamayura?
Create blog post
Hey everyone! Welcome to the Tamayura wiki, an online resource for everything about the super cool anime. The new season is currently underway and it seems great so far. What do you think? Let us know!

We'd really appreciate your help in populating t…

Read more >
See more >
Loading RSS data...